Additional navigational links
are available at the bottom
of this page.
NEW!

My Opel GT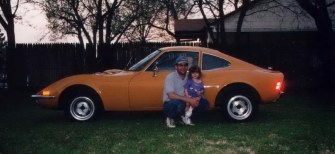 Me with my daughter, " Alison" and my 1973 fireglow orange Opel GT.
The Interior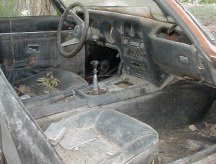 Before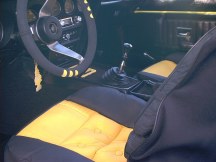 After

How I did it: First, it took a tremendous amount of scrubbing. Pulled the seats and tore out the carpet. Trashed everything that was unsalvageable. Ordered a new carpet set and dash mat from Opel GT Source... cost about $158.00. Seat covers were on sale at Autozone for $39.95. Steering wheel cover was bought at Pep Boys for $6.95. Misc. parts came from my assortment of parts cars. Ash tray was taken down to metal and repainted yellow to accent the interior. Add to that some black vinyl die to darken the door panels and dash back up, etc. Total cost of the interior renovation was less then $300.00. The rest was sweat and lot's of it...
The Motor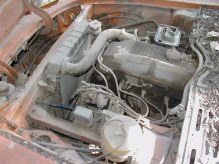 Before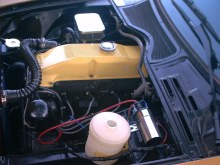 After

How I did it: Like the interior, the motor started with a good cleaning. Then it was pulled and the engine compartment was cleaned, sanded and painted black. The motor itself was checked out cleaned and painted dark metallic gray and the valve cover yellow along with a few other accent pieces. The motor was put back into place and all new rubber hoses were installed. The coil was replaced and moved as was the voltage regulator. The ignition system was replaced, (points, condenser, wiring harness between the voltage regulator and the alternator, wires, etc.). The rest of the wiring was checked repaired and retaped. Total cost of the motor renovation was less then $150.00... now, if only I could find that damn cap for the windshield washer reservoir...hmmm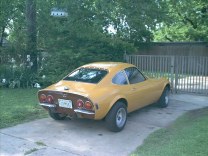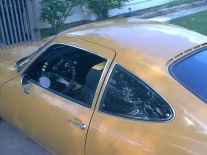 As far as the body is concerned, I'm still working on that. I did attack it with a can of rubbing compound and a ton of elbow grease. The wheels were collected from a parts car, as well as many other parts. It's for a long way to go, but it's a head-turner just the same. Soon, it will receive the rest of the body work and will be paint jet black with a few yellow accents. I will add those pictures as soon as it has been accomplished. Needless to say, I can't wait! Like everything else, I will be doing that job myself also. Wish me luck!